Fap Titans is a must-have in the world of hentai video games. 100% free, it takes you on a mystical and fantastic adventure where you will meet sexy heroines in passionate sex battles. Moreover, its graphics are breathtaking with a maximum of uncensored and particularly explicit details. So in short, check out our full review of the free sex game Fap Titans!
Play Hentai Hero: the #1 hentai porn game
Fap Titans: English hentai game available on browser
Fap Titans is a hentai game that takes you into a fantastic universe. Inside, evil monsters attack sexy heroines that you will have to train to win the fight. As you progress, you dive deep into the characteristics of each sexy girl to witness passionate and particularly explicit sex battle scenes.
As for you, you are a warrior who must gather a guild to solve the quest and complete your daily missions. With a breathtaking design worthy of the most beautiful Japanese mangas, you enter a world that is downright mystical, where you will come across wizards, druids and barbarians. Moreover, the game Fap Titans is completely free and in English with a simple connection on browser. When you first log in, you can play in guest mode, but you will be limited in the features. That's why we recommend that you register for free, which will give you a better gaming experience for even more fun!
Want a hentai sex game to cum in? Then try the game Hentai Revolution!
Fap Titans gameplay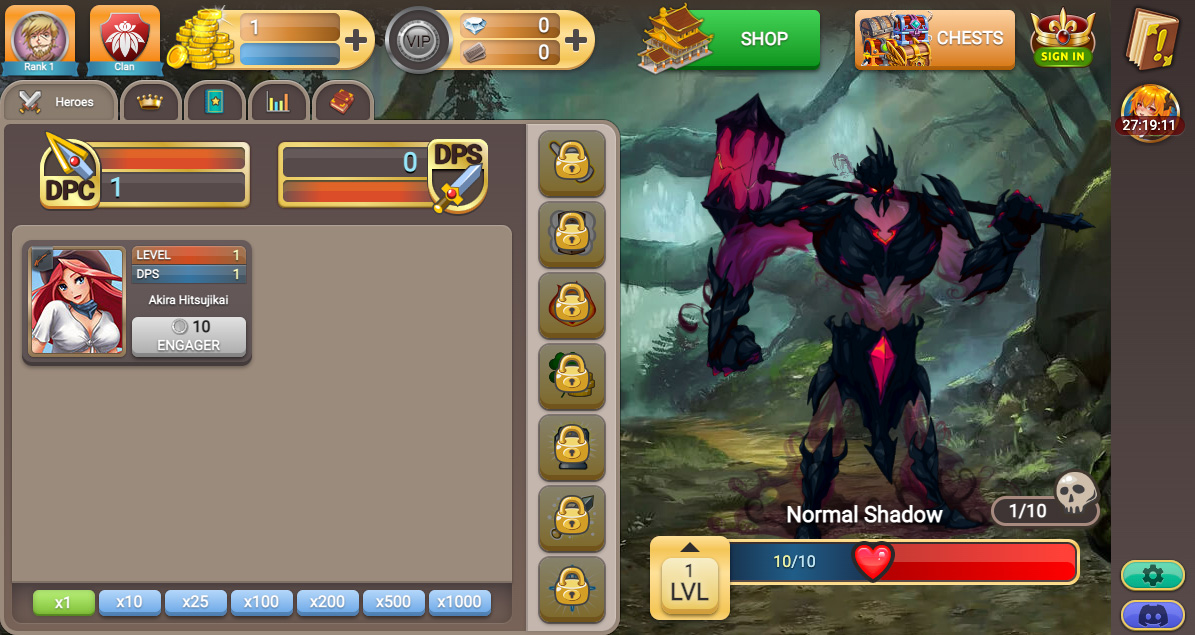 In Fap Titans, you are a warrior who must create a harem of sexy girls to engage in frantic battles and sexual battles. As you progress, you will become stronger and stronger, which will require a lot of strategy to know all the abilities of your heroines. Thanks to your harem, you will be able to collect a maximum of gold to unlock epic girls and X-rated hentai sessions!
As for the sexy girls, they belong to different classes such as archers, druids, wizards, warriors, barbarians or gunners. Each one has its own specificities and its own sexy style. As you progress, you will be able to strengthen their skills to win the battle. When you win, you unlock a random reward with, among other things, a very detailed porn picture that you can put away in your collection to admire it quietly. In terms of rewards, you can also collect bonuses such as new heroines, unique skills or increased damage.
In terms of gameplay, Fap Titans goes all out! With the English version, you'll get maximum immersion to bring your wildest fantasies to life. If you want to go even faster in your quest, you can easily buy features that turn this hentai game into a totally addictive erotic universe. Moreover, it is a sex game suitable for beginners who will receive a guide to show them the main features of the game.
Check out Hentai MMO: the best Hentai MMORPG!
About the game's graphics and soundtrack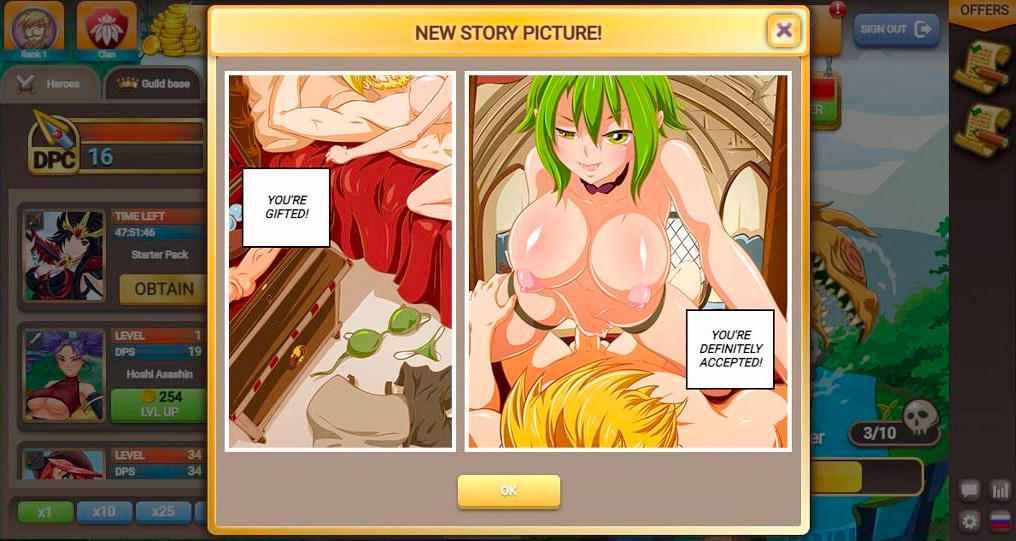 On the graphics side, Fap Titans relies on an impressive image quality with particularly detailed porn pictures. Worthy of the most beautiful Japanese hentai games, you amass a complete collection of sexual poses to admire whenever you want. As this sex game is developed in several language versions, you can even enjoy sound animations in English for even more sensations and an even more erotic universe. As for the interface, it is particularly ergonomic and is grouped into 5 sub-categories which are :
Heroes with your harem of sexy girls
The guild base, a city that gathers the total number of girls and different infrastructure projects
The gallery which accumulates all the pornographic pictures you have won during your quests
The rating tab that allows you to see your current rating with the possibility of winning jewelry as a reward
The quests you will have to follow to win and progress in the hentai game
Is Fap Titans a free sex game?
Fap Titans is a totally free sex game accessible directly on the browser. At the beginning, the registration is optional since you can perfectly launch without registration. However, by going through this step, you will be able to have interesting bonuses. In addition, if you ever need to close the tab in a hurry, your session will be automatically saved in your profile. Finally, you should know that by registering, you will be able to enjoy all the advanced features of this hentai game. Among the most important, remember :
The registration of your session
The possibility to play one or more rounds
The ability to contact customer support easily
The ability to view your progress and statistics to improve your strategies
The possibility to get interesting bonuses after registration
That's why we strongly recommend that you create your profile. You can do this by connecting directly via social networks or by following a short questionnaire. As the security of your private data is guaranteed, you don't have to worry about your personal data.
Then you can play the game on your tablet, smartphone or computer and take it with you wherever you go. If you want to speed up the quest, you can also use electronic payments in the form of credit. The transaction is done through Epoch payment and is completely secure. You get credits in the form of diamonds with 40 diamonds for $5, 100 diamonds for $10, 500 diamonds for $40 and 1150 diamonds for $99.
Also read: Gay Harem, a free online gay porn game
How to play Fap Titans online?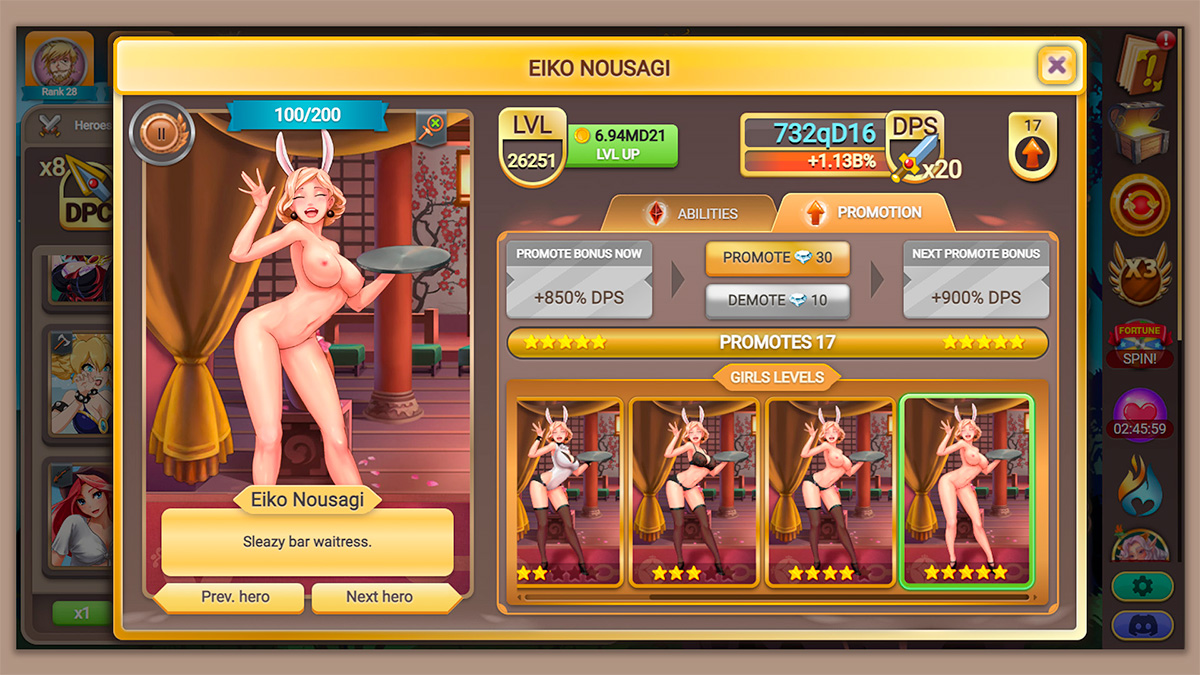 To play Fap Titans online, all you need is a simple connection! Indeed, as it is a free hentai game, you just have to register to create your profile. Then, you can easily enjoy this sex game with stunning graphics anywhere and anytime. Indeed, its interface adapts very well all the supports that it is on the tablet, the computer or the smartphone.
This allows you to continue playing while on the go with the ability to save your session anytime. Downright addictive, Fap Titans pushes you to the limit to provide a very exciting erotic experience. In addition, as a beginner, you will be guided step by step by numerous tips discovering the most effective methods to win the battle. In short, get ready for many solitary sessions to bring your wildest fantasies to life!
Find many hentai games online on the site Erogames.com
Fap Titans reviews
Concerning the reviews on Fap Titans, you will find very few disappointed users. 100% free, totally addictive and with a stunning level of graphics, it will take you on an erotic arcade game that will keep you awake for several hours.
Pros
The main advantage of Fap Titans is that it is completely free! When you go through the guest mode, you will discover its numerous possibilities by diving into a fantastic and erotic universe. If you want to take full advantage of this porn game, then you'll just have to go through a registration process that will only take a few minutes. Ergonomic and suitable for beginners, this hentai game will not require you to perform any complicated action to operate your sexy heroines. Its only requirement is to work on your strategies to win as quickly as possible. As a result, you will get a particularly detailed porn picture that you can amass in your collection.
As far as graphics are concerned, Fap Titans uses all the codes of Japanese manga with particularly hot details. Moreover, you will be able to satisfy all your desires since it is a sex game that offers you a multitude of heroines to satisfy your every need. As you progress, you can even unlock epic girls with the naughty warrior, the super hot witch or the sexy druidess.
Plus, as you build up each girl's abilities, you'll strengthen your harem and guild for lots of exciting bonuses and rewards. In short, you can fully immerse yourself in this mystical pornographic game without taking out your bank card! However, if you really want to take it to the next level, then you can unlock some paid bonuses for even more excitement!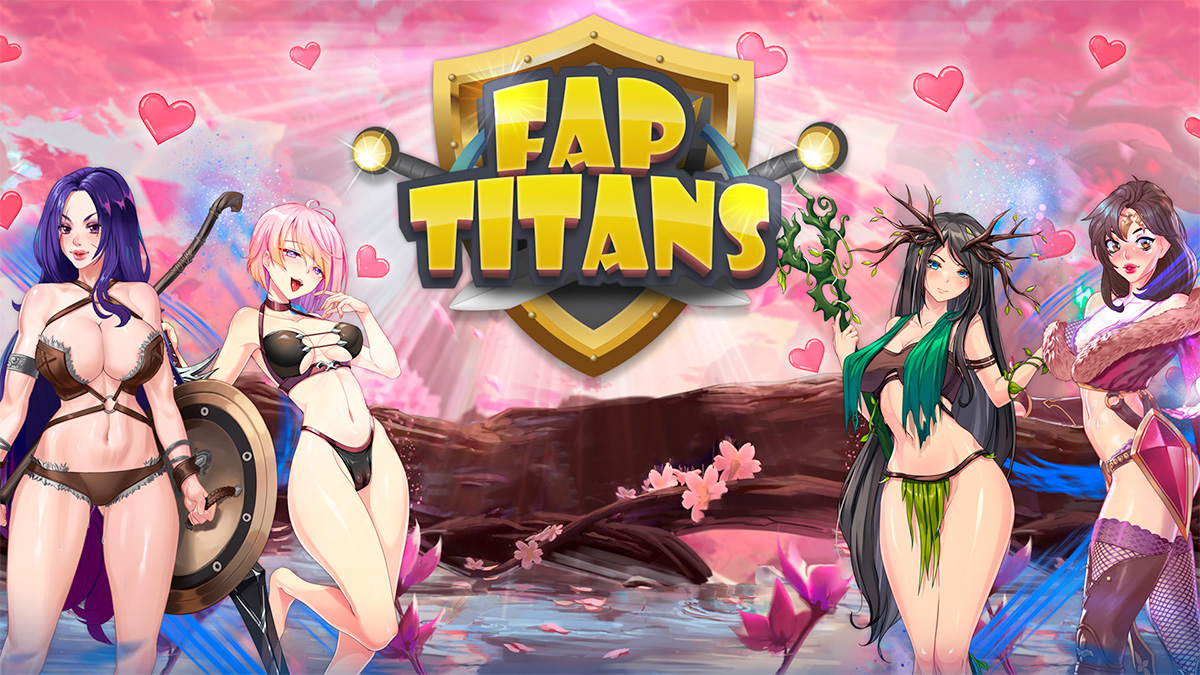 Cons
On the negative side of Fap Titans, the developers have not yet managed to develop a mobile application that would allow easy access on a smartphone. However, since the interface adapts very well to the size of the screen, you will still be able to take it everywhere with you to play anywhere and anytime. As for the graphics, some gamers are sometimes disappointed by the hentai universe of this porn game. Indeed, for fans of ultra realism and 3D sex scenes, Fap Titans is not really adapted. On the other hand, it takes you on a sultry adventure with many pornographic images with breathtaking details and in very high quality. So you'll be able to enjoy your solitary sessions with a 100% free porn game that's a must-have.